We've slowly but surely been painting, renovating and generally making over our house to make it a home. When we moved in 4 years ago, the house was structurally sound but nowhere near our style and aesthetic. It was a mish-mash of colours and decor decisions that we were eager to change.
The very first thing we did was head to Home Depot and bought 25 gallons of white paint. 25 gallons is not exaggerating (we bought five 5 gallon pails).  And when I say white, I mean white. We started looking at all the white options – polar bear white, snow white, Japanese paper white, Swiss coffee white, peaches and cream white. There were so many whites and we didn't want a yellow, blue or green hue… we wanted white! So we asked if we could buy our paint plain – the pure white they sell with nothing added. The woman who worked at Home Depot almost wouldn't sell it to us. "You're going to feel like you're living in an insane asylum," she said. But we said trust us.
We're so happy with our decision to paint our entire house white. You'll soon see over the next few weeks what a huge change it's made. We went from closed-in, overwhelming colours to light, bright and airy. It almost feels as though our house has doubled in size – all because of white paint! I can't extoll the virtues of white paint enough!
So, let's get started on the reveal. We'll start small with our walk-in closet. This little room directly off the master bedroom was previously used as an office (we think). As you can see, it was light pink with orange-brown-beige carpet, sheer pink curtains hung over the closet doors and unpainted wooden shelves were screwed into the wall over yellow striped wallpaper. It was a mess.
Our first decision was to tear up the carpet. It had been glued down with a black, tar-like substance so Dave and his cousin Derek started sanding. And sanding. And sanding. Miraculously, an original pine wood floor was in tact underneath all that glue.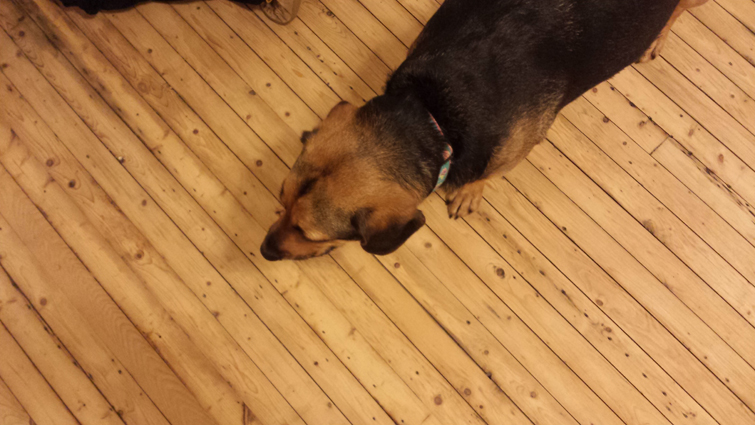 Funny story about choosing the colour of the floor. Dave was heading into the hardware store one day so I asked him to pick up some stain for the floor. He asked if I was sure I wanted him to do that. I said of course, I trust you to make a good decision! So he came home with green. I thought oookkaaayy… let's try it. See (blurry phone) photos below. The green didn't look as awesome as we had hoped. So I took it back and asked them to make it as dark as possible. I came home with grey and that wasn't a winner either because it still had those green undertones. So I ended up buying a new can of black stain and that ended up being the best choice. Lesson learned – always go to the hardware store together!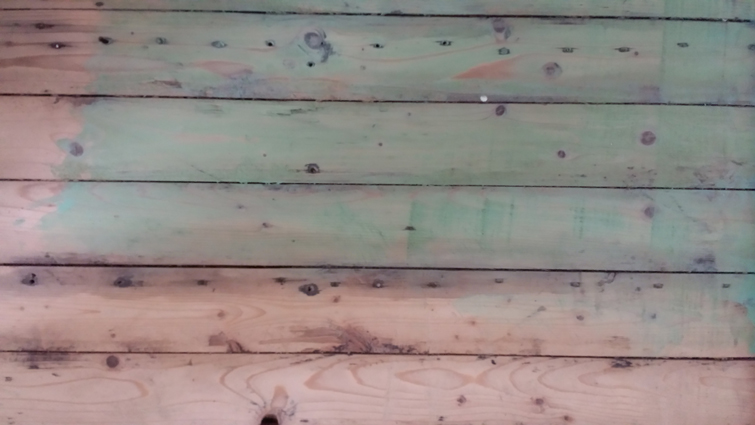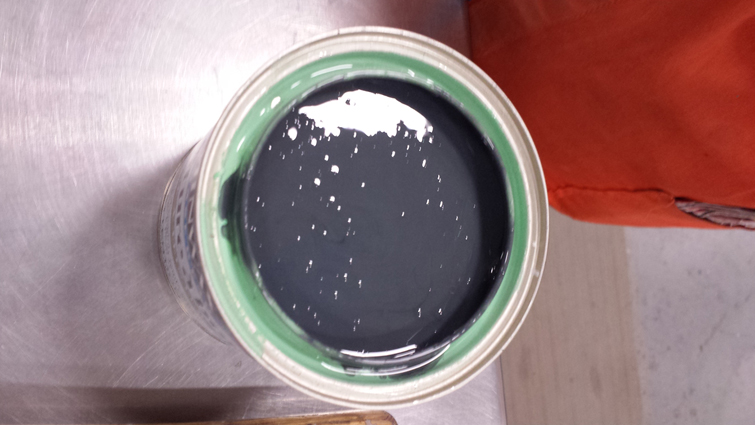 We learned another lesson too: be very careful when applying black stain because it's easy to apply it too thick and then it ends up looking like you painted your floor completely black. Dave spent a lot of time going back over it with mineral spirits and steel wool to make it look more stained and less painted. It was a pain in the neck (and very smelly!) but it was worth it. Nothing like being first-time home owners and learning as you go! We love the end result.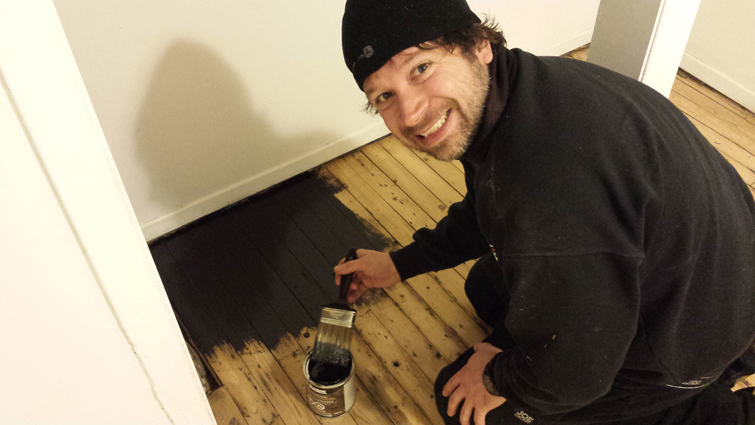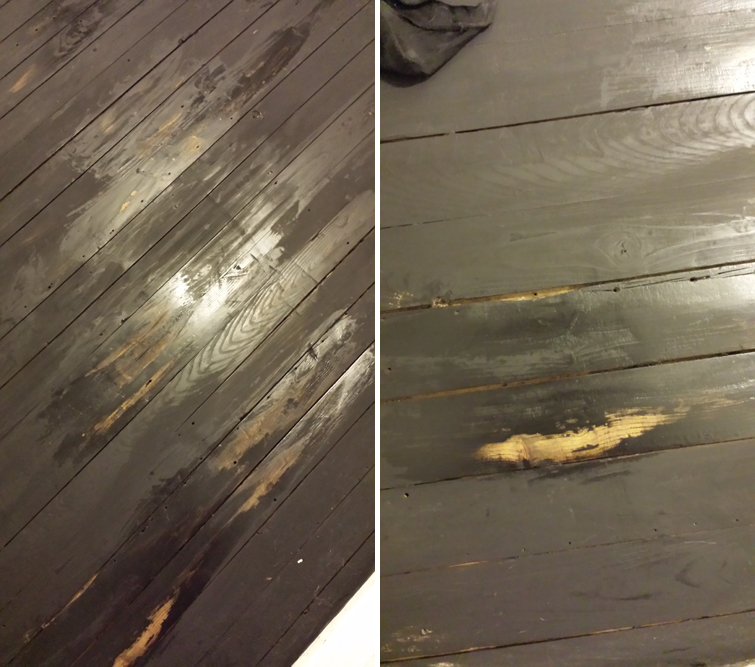 It's amazing what a few coats of white paint and a little elbow grease can do. We bought some closet organizers at Canadian Tire and voila! We're now the proud owners of a beautiful walk-in closet. It's so awesome to have a dedicated place to store and organize our clothes. It makes me feel like a real adult. Here's how the whole space turned out: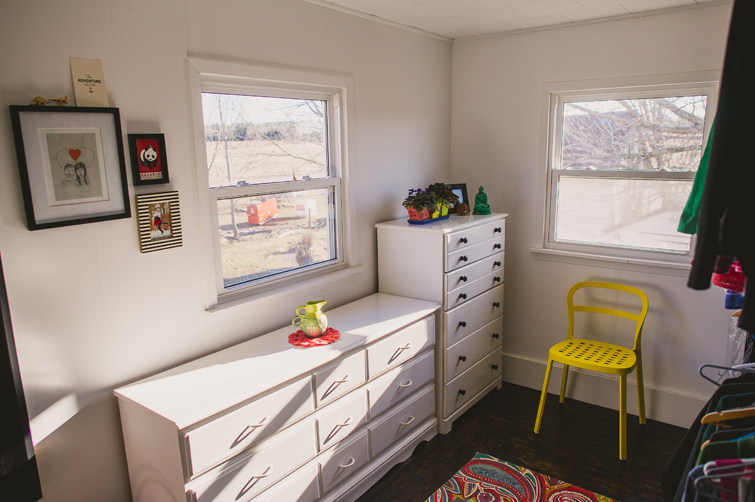 We don't have neighbours so we didn't bother to put up curtains. No curtains means beautiful light streams in through the windows almost all day.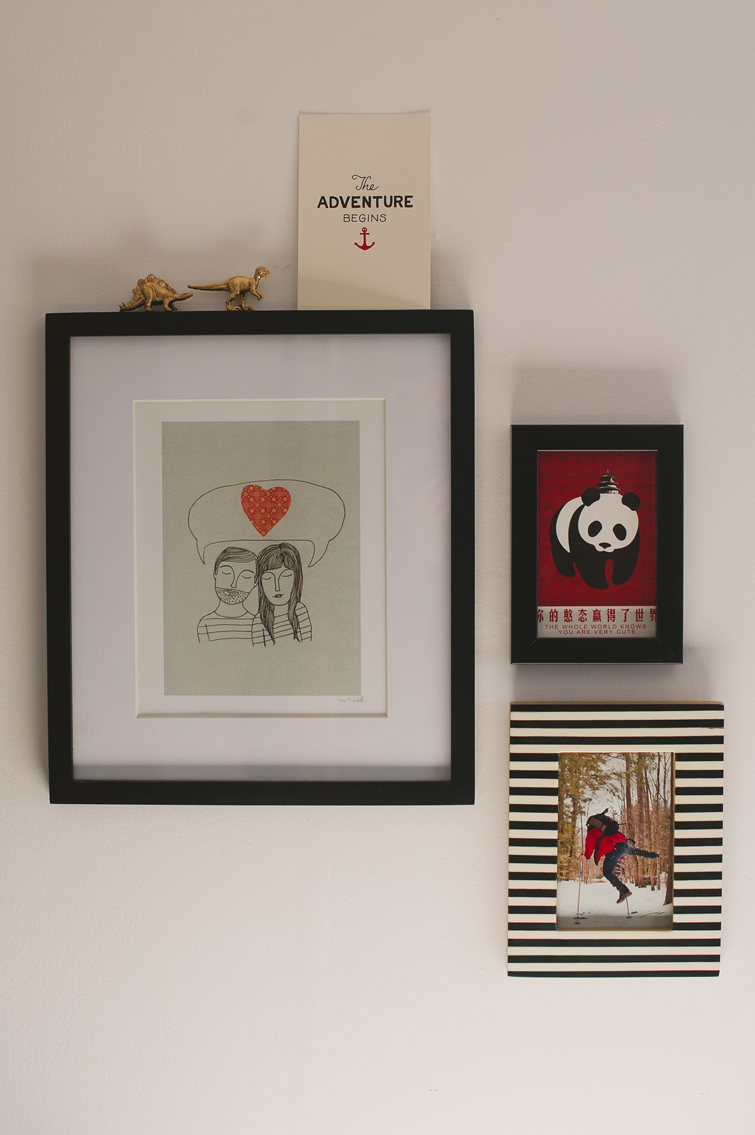 I love this collection of artwork and photos. The gold dinos were part of our wedding decor and "The Adventure Begins" is the card Dave gave me on our wedding day. I purchased the "No Words Needed" print on Etsy from sparklehen. When I saw it, I had to get it because it blows my mind how much it looks like us. The panda bear is a postcard I picked up in China and the photo is one I snapped of Dave celebrating his 35th winter hike in the Catskills making him an official Catskill 3500 Club Winter Member.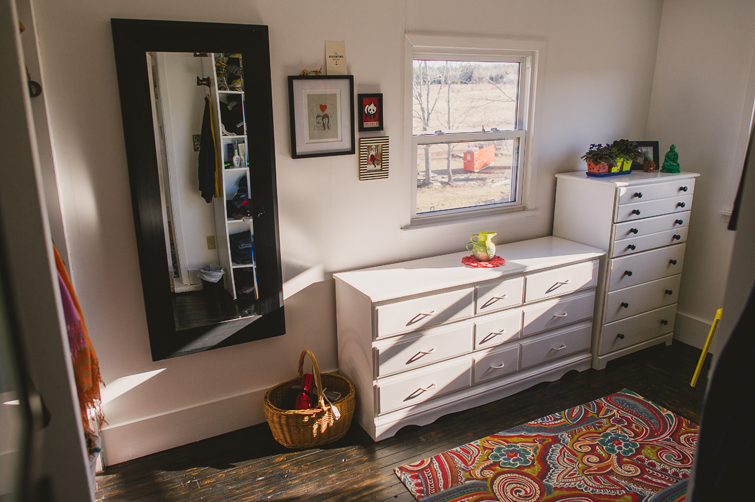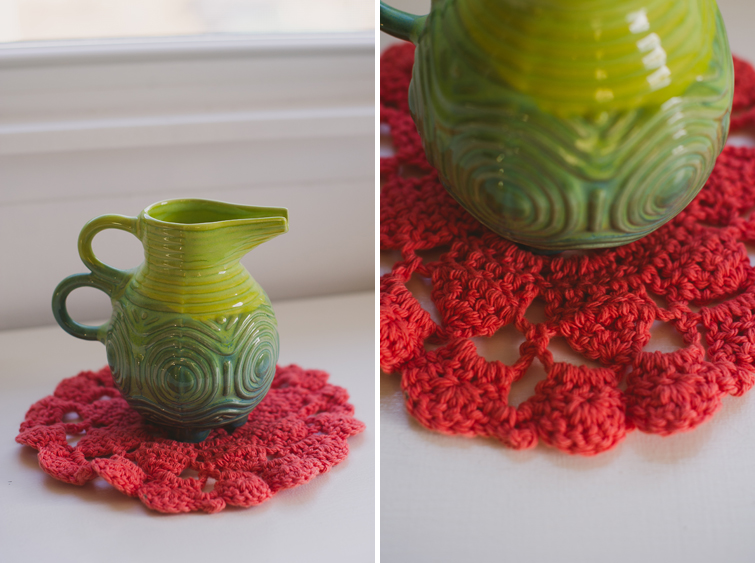 I picked up this cute little jug at Anthropologie the last time we were in New York. My Mom crocheted me the awesome doily.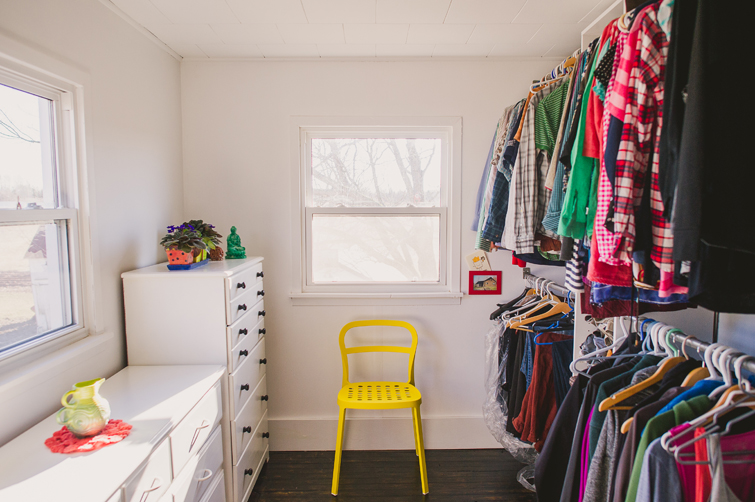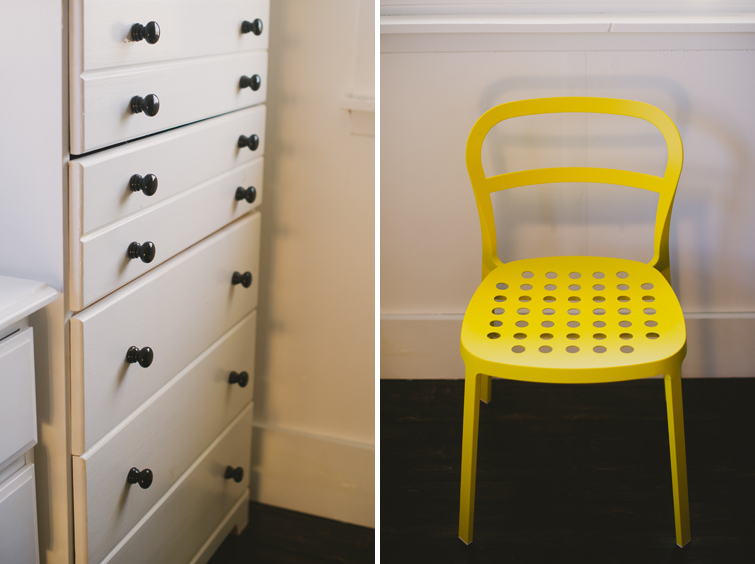 I love this yellow chair from Ikea. It's a great spot for Dave to throw his dirty-but-not-quite-ready-for-the-laundry clothes. The taller dresser was given to us by Dave's parents. It was originally pine but I painted it white and spray painted the knots a glossy black. I think of it as the tuxedo dresser now because it looks so dressed up.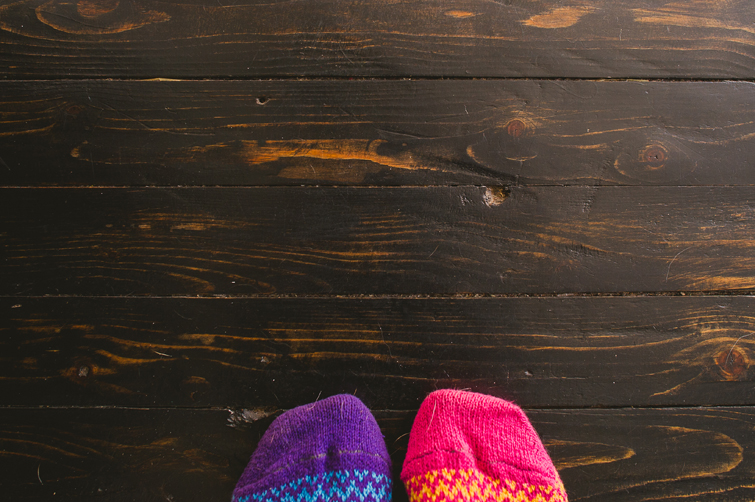 A close-up of the finished floor. In retrospect, dark might not have been the best choice given my 2 dogs, 2 cats and farmer husband. It's kind of amazing how quickly the pet hair, dust and bits of hay can build up. I keep a broom upstairs now just because I'm sweeping up the closest floor so much. But that's life in our house!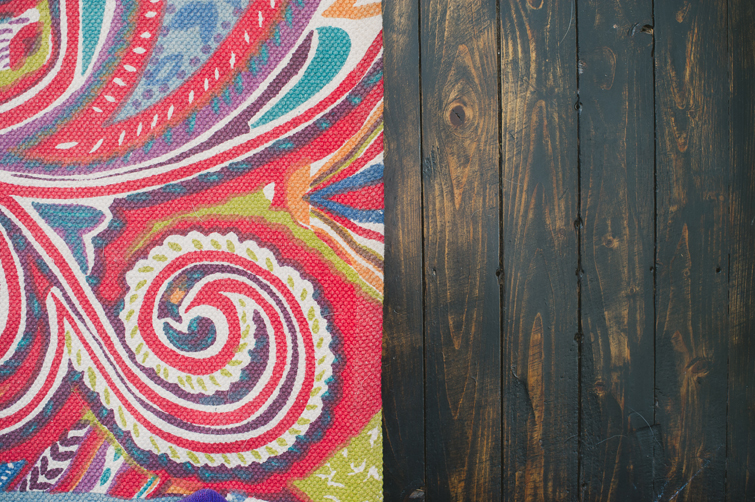 I picked up this fun and colourful rug at American Outfitters when we were in San Francisco.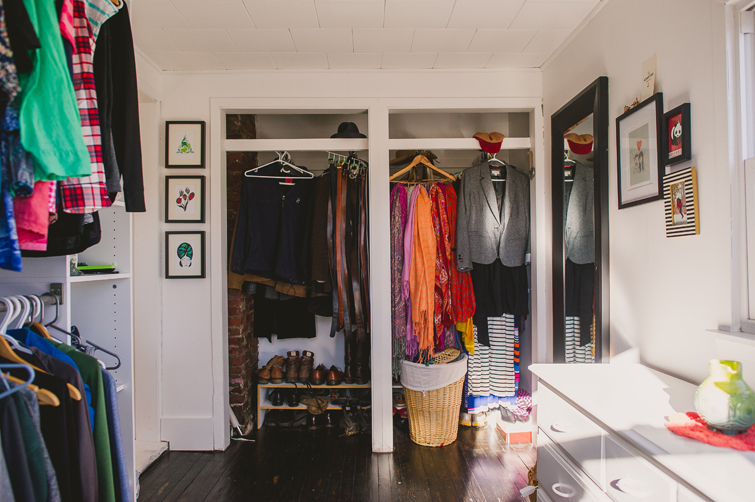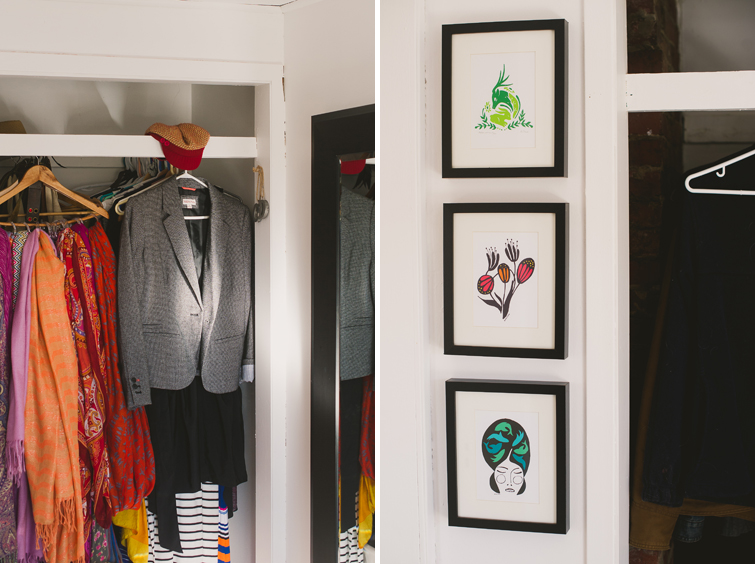 I love my three Anna Ramsay prints I picked up at the Halifax Crafter's Christmas Market a few years ago.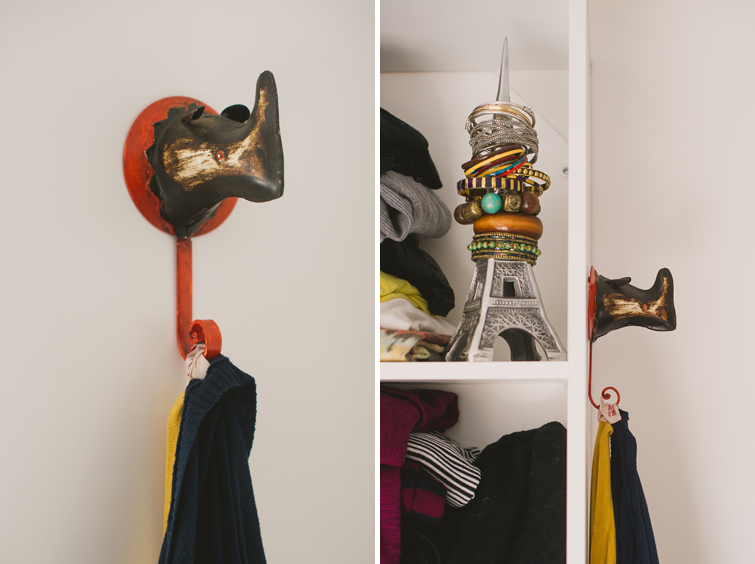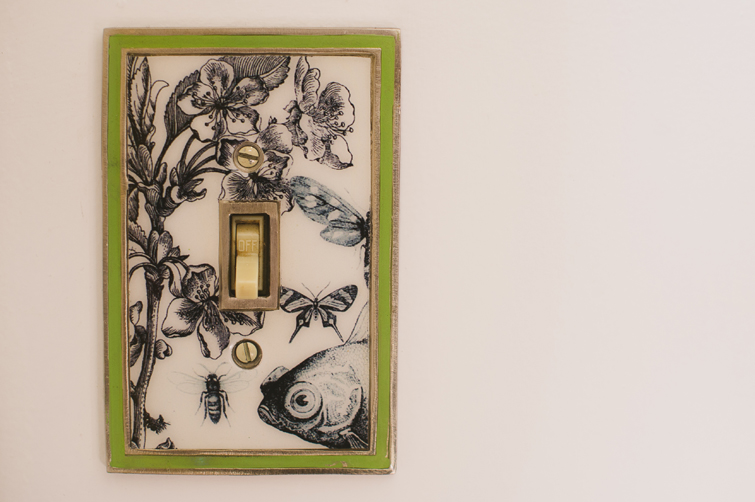 It's the little things that make me smile when we finish re-doing a room. The rhino hook (from Urban Outfitters) makes me happy every time I hang something on it and my Eiffel Tower makes me feel loved because my dear friend Lori gave it to me at my wedding shower (because we went to France on our honeymoon). I love the switch plate because Dave picked it up when we were in New York. I would never have gone for the fish and bug motif but it's awesome and fun to see how our styles come together and usually, they end up meshing quite well – just like us!
Our next before & after will be the master bedroom so keep an eye open for it in the next few weeks!