I kept putting off this post because our bedroom isn't completely finished. There are still a few more photos to hang and projects to work on. But then I realized that a room is never completely finished. Like us, rooms and houses are a constant work in progress. As we grow, learn and experience new things, those experiences will show up in our decor. As we make and do as creatives, our projects will find themselves displayed on shelves or hanging on the wall. So as a few weeks turned into months, I knew it was time to finally share our bedroom makeover. Time to admit that our room isn't quite finished but we love it anyway, for what it is now.
Here's a look at the before. Bubble gum pink paint of varying shades, a wallpaper border, plain wood trim and randomly, one piece of blue trim over the entrance to the closet. (You can see our closet before & after by clicking here).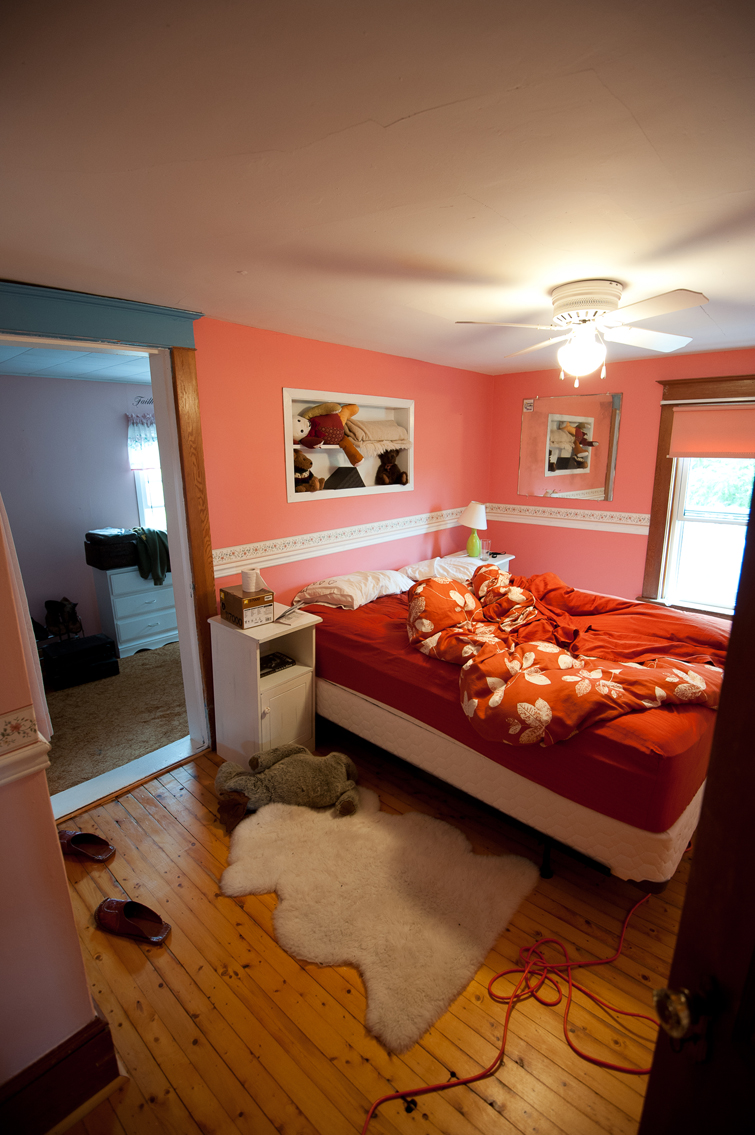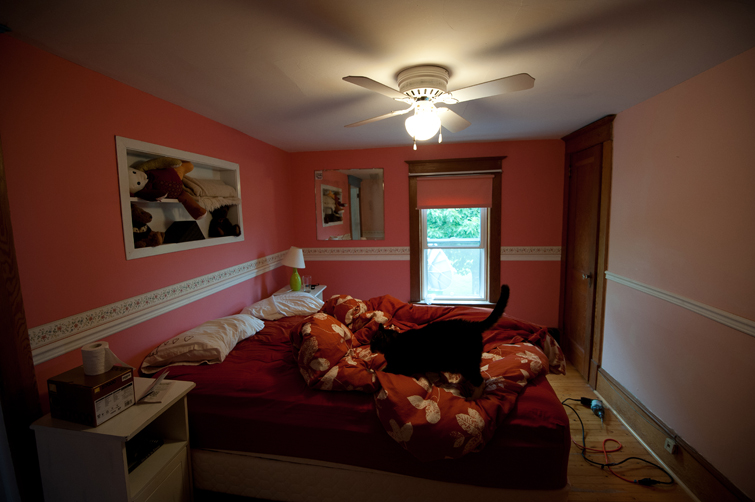 Let me tell you, if you're looking for the best bang for your buck decor-wise, it is AMAZING what a difference a simple coat of paint can make! ta-DA!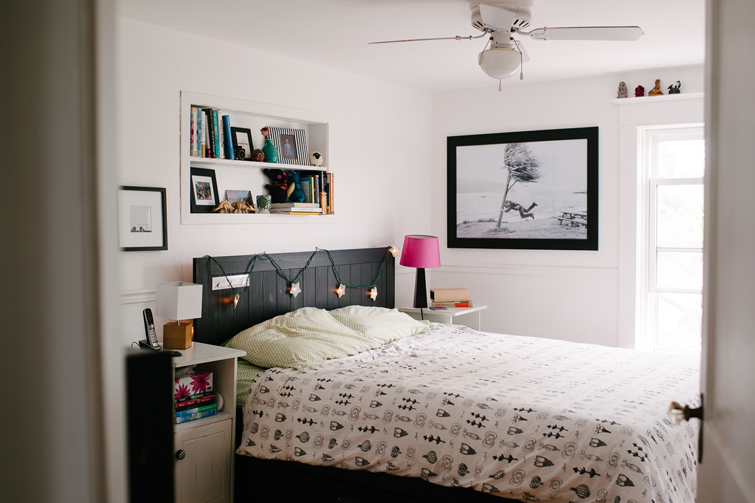 Now, I'm no decorating guru. I just like to have fun with our home. My motto is, "If I love it, it will work!" So I don't mind (one bit!) mixing patterns or placing collections of unrelated treasures together. To me, the most important thing is to love everything you have on display. I also like for things to mean something. You'll see as you scroll through that most of the objects in our bedroom represent us and the experiences we've had over the years.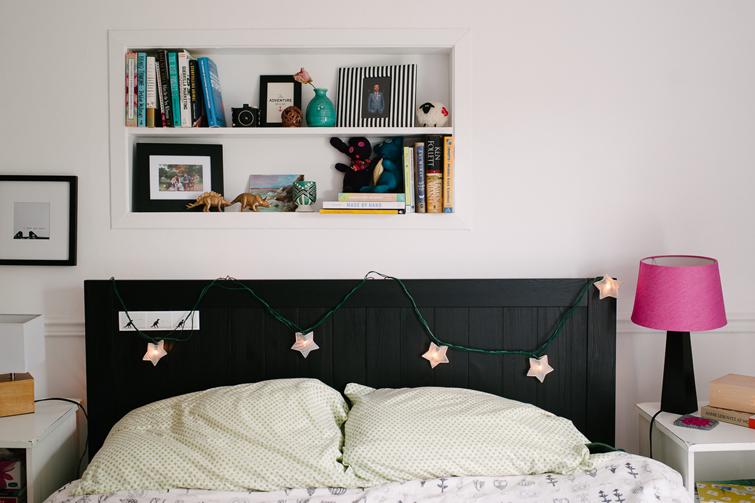 These dinos were a present to Dave when we first started dating. I guess dinosaurs have been a theme in our lives for awhile now! It reads, "I'm a scary dinosaur." "Rawr!" "But my heart is yours."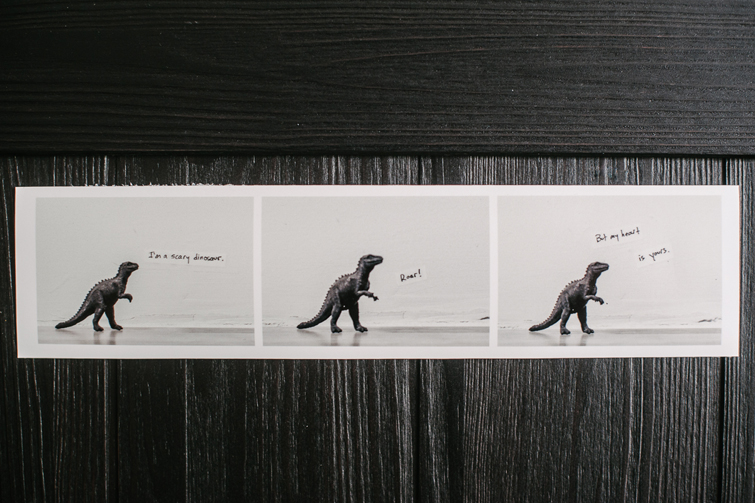 We sleep under the stars every night, cloudy or not!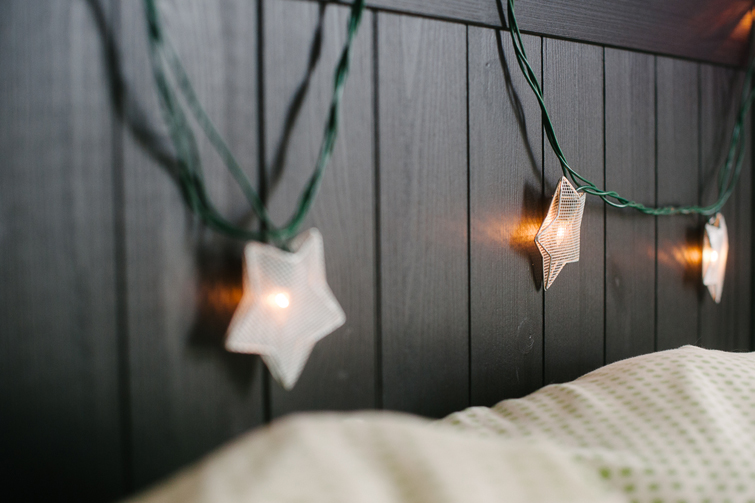 I love the shelves above our bed. At first I found them annoying because they weren't centered and if we choose to put the bed any other way, the shelves look strangely out of place. But this year I've decided to embrace them and have filled them up special mementos and books. Below is one of two wedding photos we've printed (I know, I know – we need to get more of our beautiful photos printed and hang them all over the house!). The sheep was made by my mother out of Dave's first harvest of wool. The two stuffed critters are Clementine and Dill who I made for Dave when we first met. (Side note: the Clementine and Dill link is to my first-ever blog. It's a post I wrote in November 2009 and I have to admit, it's kind of charming. It made me smile anyway!).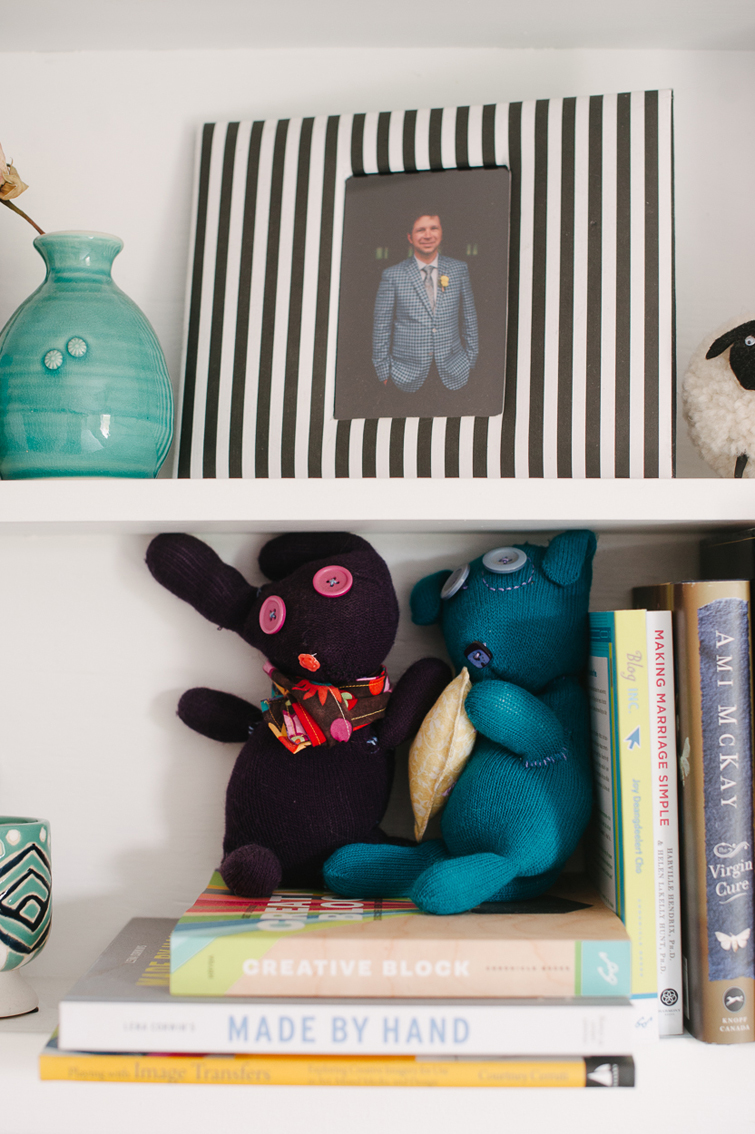 The dried flower is from my wedding bouquet. The print is the card Dave gave me on our wedding day. Dave bought the candle holder from artisans working in a seaside village near where he used to live in India. The camera was my grandmothers (photography runs in my genes).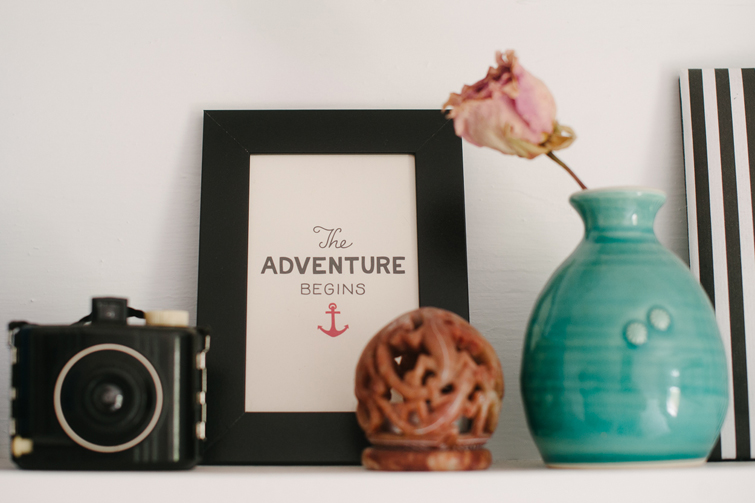 This small oil painting was Dave's first masterpiece from the classes we signed up for this winter. The gold dinosaurs came from… yep, you guessed it. Our wedding!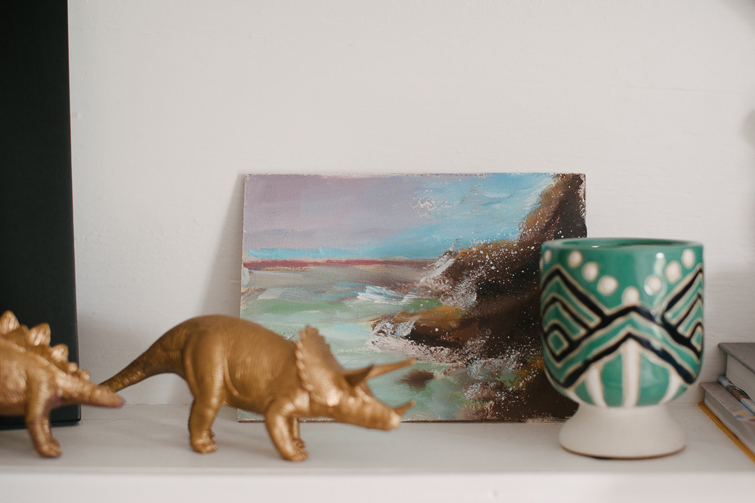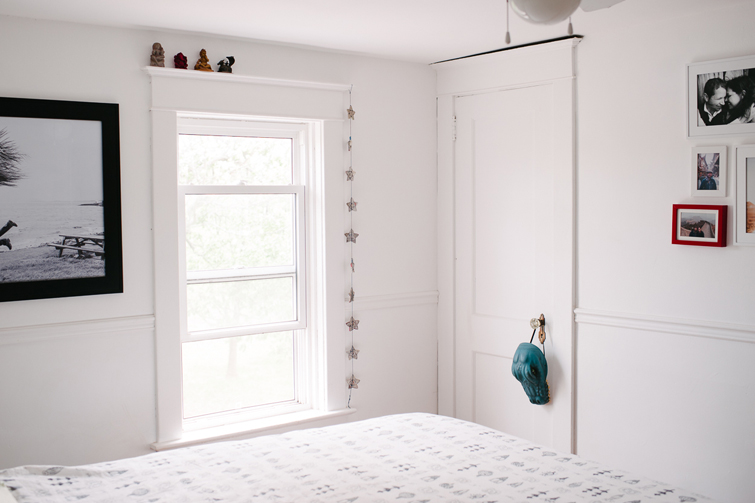 I love the gallery wall at the foot of our bed. It's a gallery of love. An homage to some of the wonderful places we've visited and fun we've had. I la-la-looooove the black & white image I had printed on bamboo from PosterJack. The photo was taken by the talented Ryan MacDonald.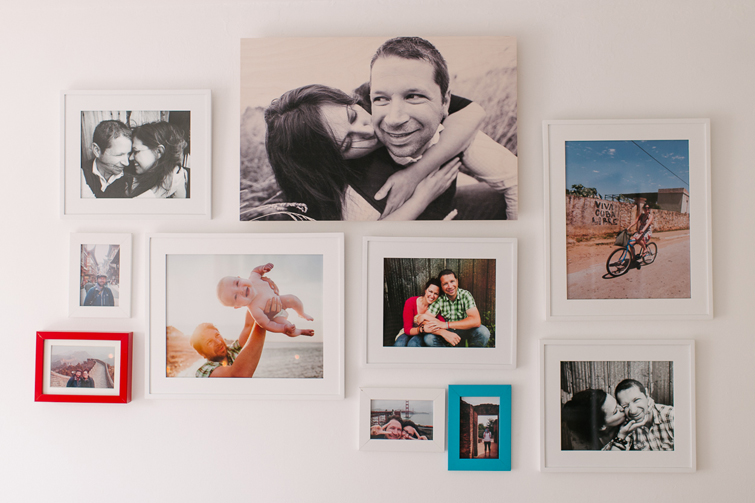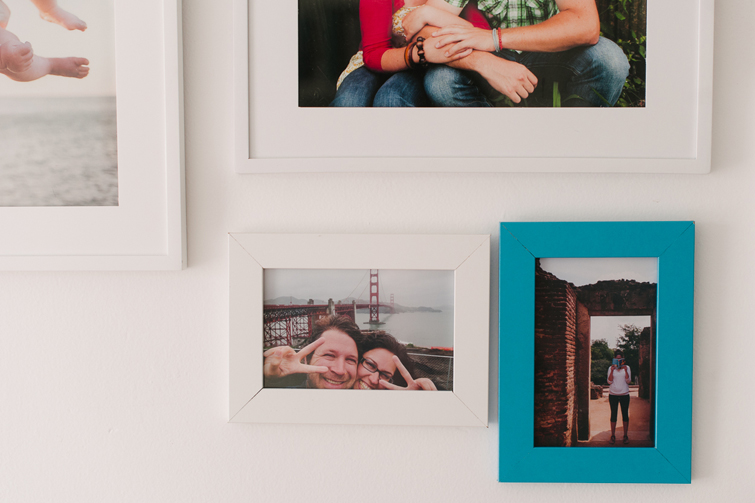 We both tend to have piles of books on our bedside tables although I must admit, Dave is better at actually reading his whereas these days, I find myself looking at pictures more. I'm really enjoying reading this Annie Leibovitz book where she discusses everything going on behind the scenes in the iconic images she's captured over the years. Of course my collection of Kinfolk and Anthology magazines is a constant source of inspiration and yes, life is better with anthropologie knobs!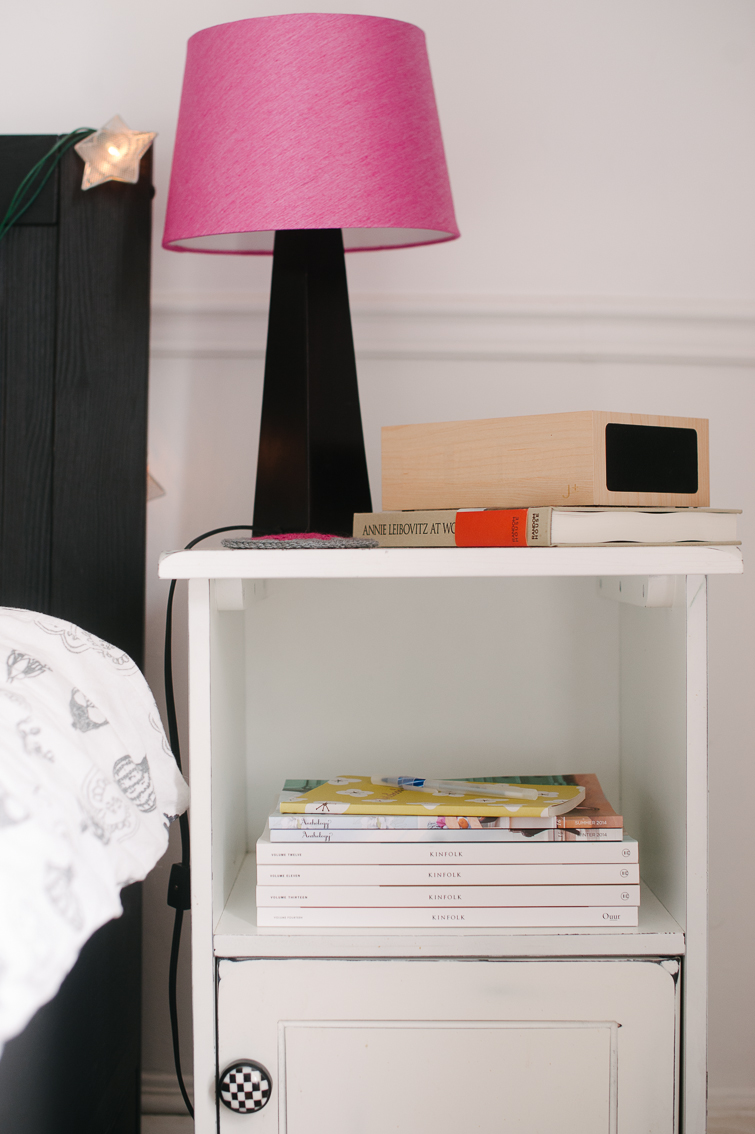 I cleaned off Dave's bedside table. It's often piled high with books and scraps of paper, a phone charger and pens. I tidied things up for your visit! The print is part of a series I made for Dave a few Christmases ago.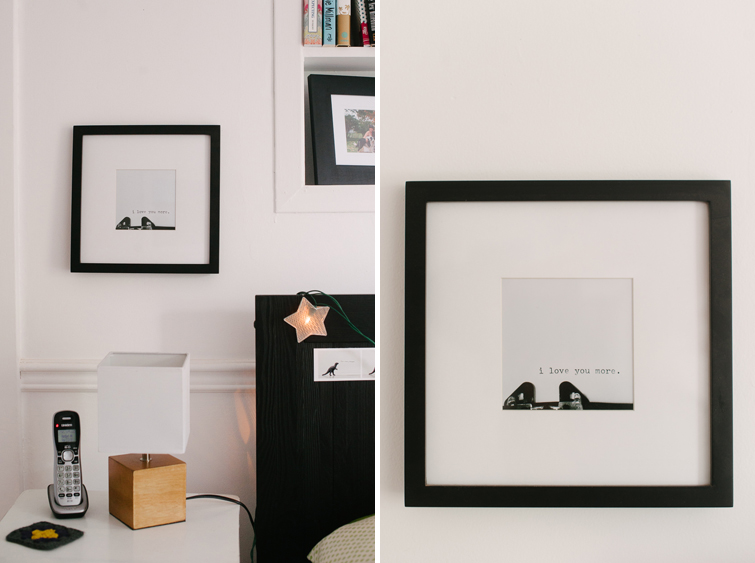 The poster-size print of Dave is one of my favourite photos I've ever taken. We were visiting our friends Elaine & Gilleasbuig in Scotland. We were out for a pub lunch one day and it was windy. Crazy windy! But don't be fooled. It's not the strong wind keeping Dave horizontal but his strong abs. I have photos of myself and Elaine attempting the same pose but we don't look near as impressive. Dave's collection of Indian gods on the window frame makes me smile as well. He learned so much when he lived in India, the least of which was how to make a killer black daal which makes his wife a very happy one!
So there you have it. Our bedroom went from a bubble gum pink hot mess of decor to a soothing white space filled up meaningful treasures and photos. The only thing missing from these pictures is ButterCat who is an almost permanent fixture on our bed. These warms summer days have lured him outside but you can see his snugly self in one of the before photos. Some things never change!