About two weeks ago I was scrolling through Facebook and an event popped up in my feed: Pottery Boot Camp at Perfect Diversity. I was immediately intrigued. I've always wanted to try pottery but haven't found myself in a space where it made sense in terms of time commitment. But a one day boot camp!? That I could do. I jumped on it knowing that with Baby #2 on the way, whatever me-time I might now enjoy is going to fly out the window in a few months. I called Perfect Diversity and as fate would have it, there was one spot left in the September 23rd class. Yay!
Saturday morning rolled around and I was excited to finally try my hand at a craft that's always interested me. I was open to loving it or learning that while I loved the idea, maybe I didn't love the practice. I soon discovered the former to be true – I loved it. I'm already trying to figure out ways to get more pottery in my life!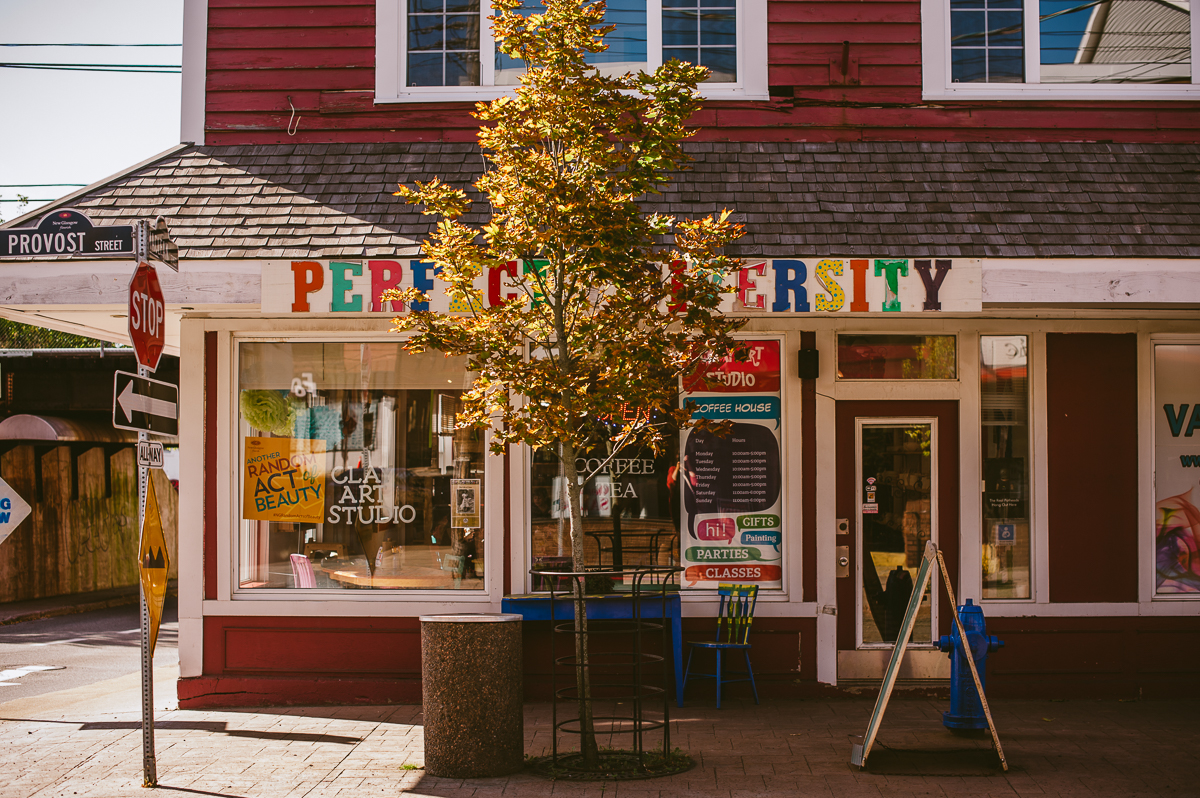 Below is our warm and welcoming teacher, Carey, teaching us how to wedge clay which is pottery talk for breaking off one pound pieces, knocking out the air bubbles and forming little balls. See, I already sound like I know what I'm doing (haha, hardly).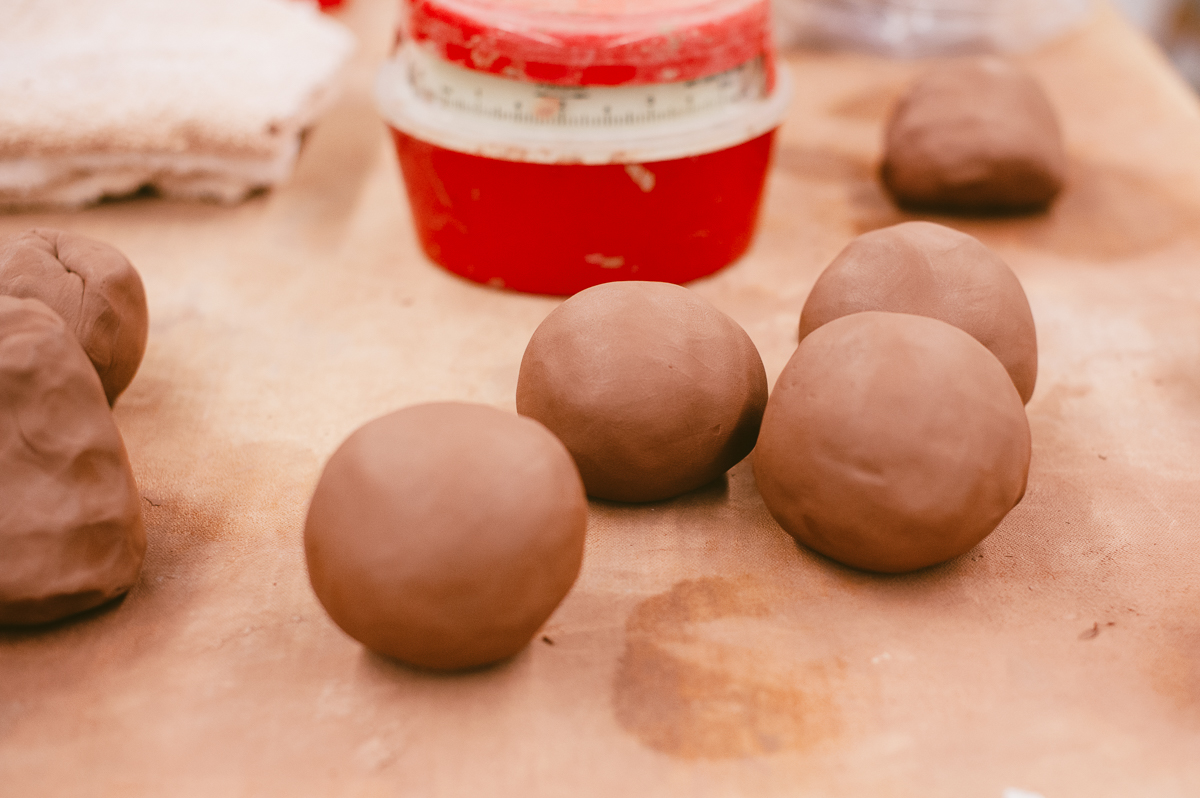 Next we learned how to center our clay. Basically you bring it up in a spiral and then flatten it down before making (er… attempting to make) your piece. If your clay isn't centered properly it will be wobbly as the wheel turns or slide right off. Thankfully I didn't have any air borne clay but it did take me 7 or 8 tries before I managed to get a piece centered. The process is fun though and SO different than any other creative outlet I've tried. Working the clay is obviously very tactile and draws you in completely. There was a definite sense of being in the moment which I enjoyed immensely. On the way home I realized there had been chunks of time where I hadn't thought about Simon, being pregnant or life in general. It was me, the wheel and enjoying the process of learning as my clay wobbled around and collapsed over and over.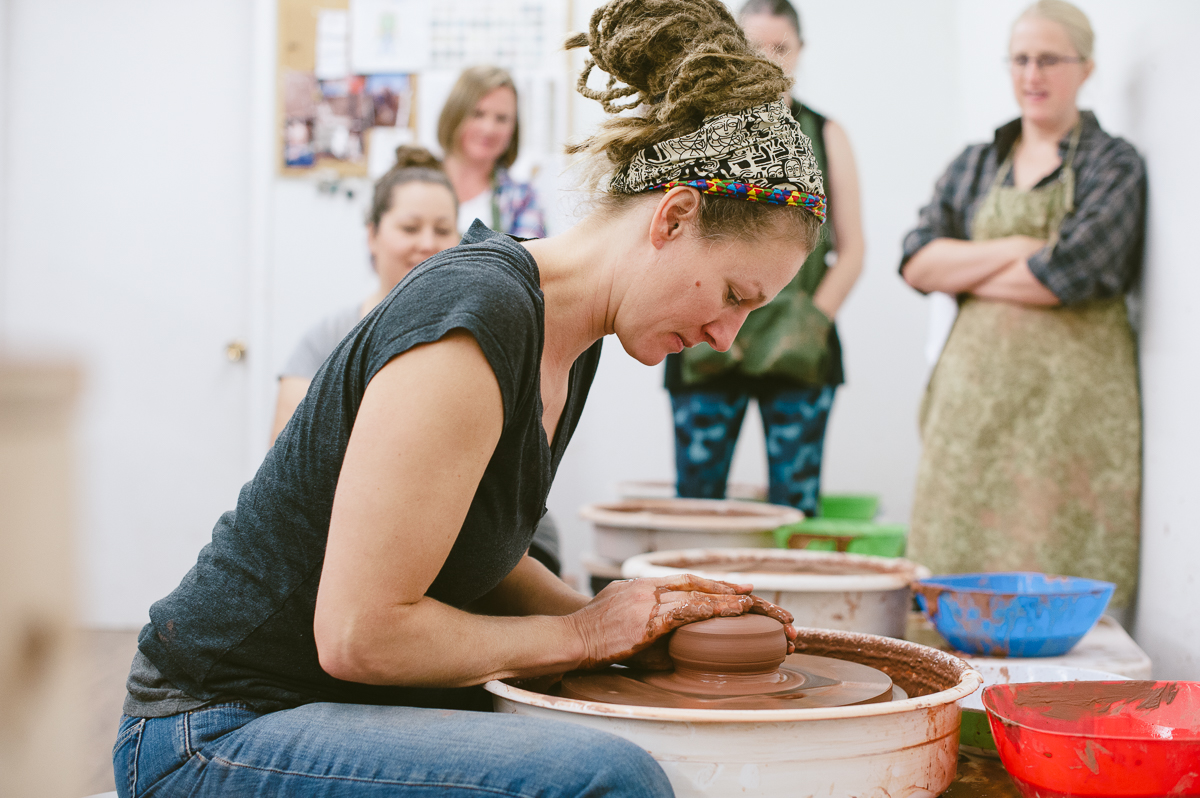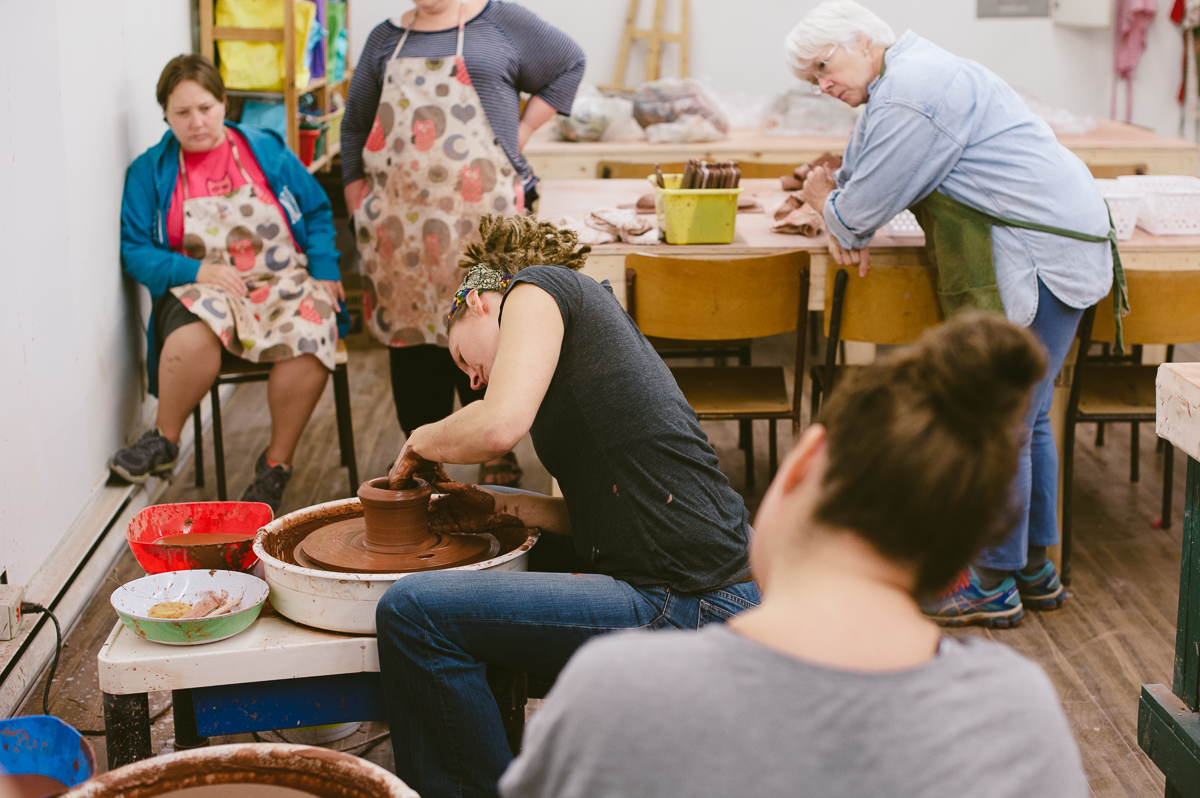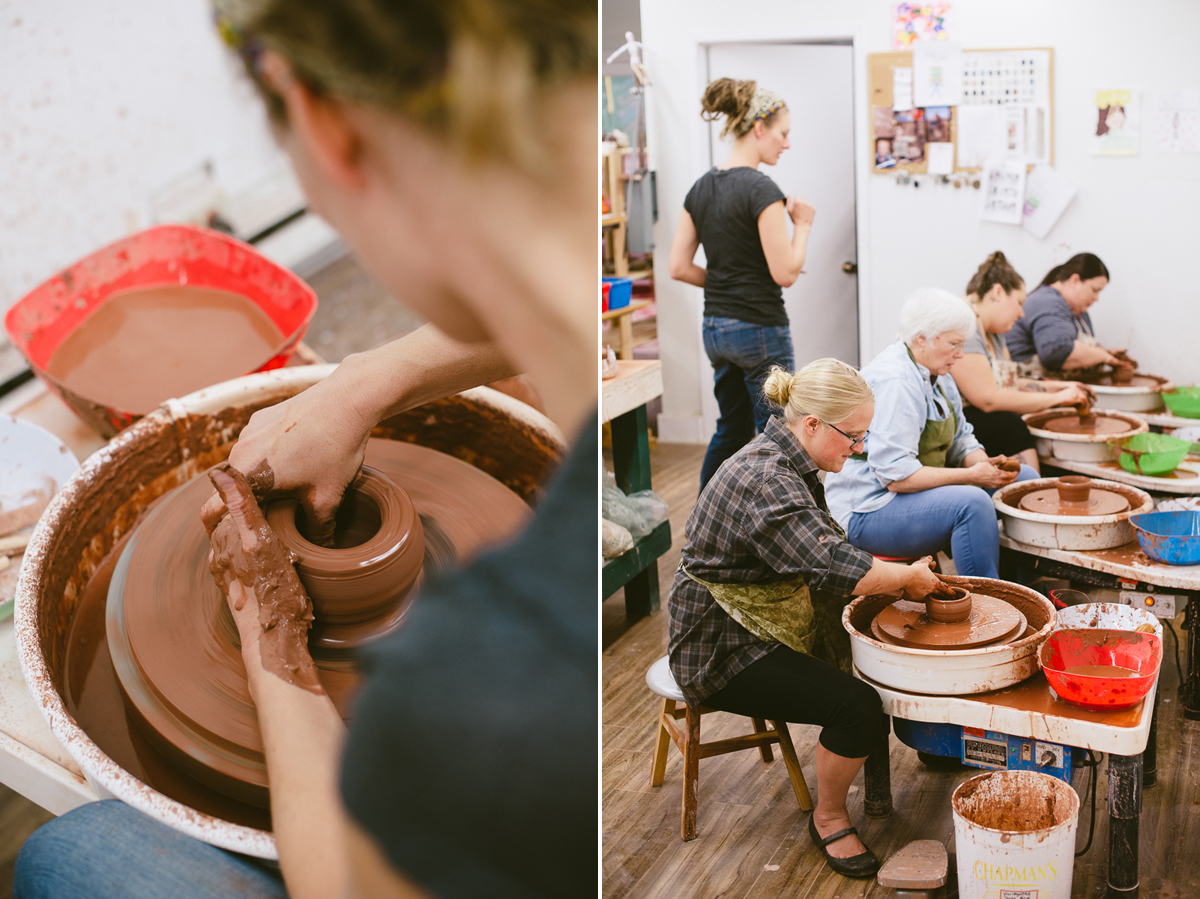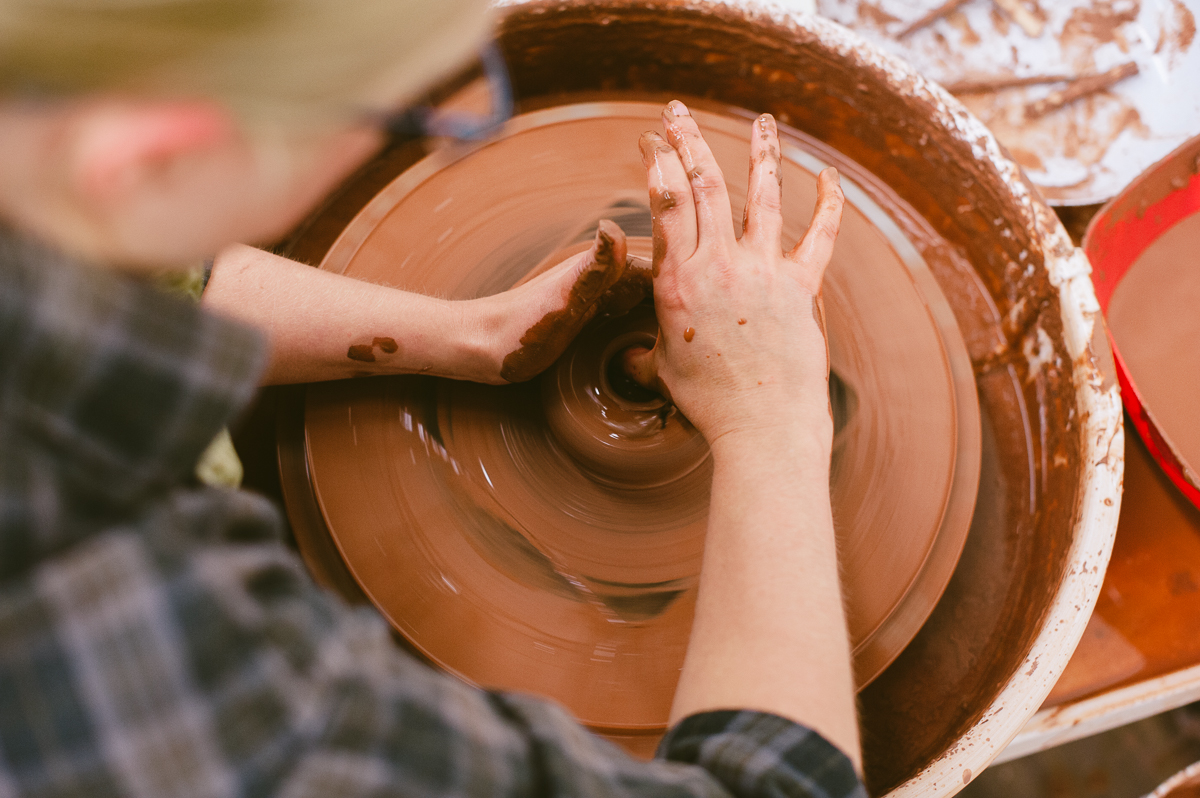 As you can imagine there are a lot of balls of clay that don't make it to their new life as a finished piece. Our practiced-on clay got piled on the table and made into a sculpture. A tribute to all we were learning I like to think. Our instructor Carey reuses the clay so we didn't have to worry about wasting materials – the clay sees another life as something beautiful that she creates.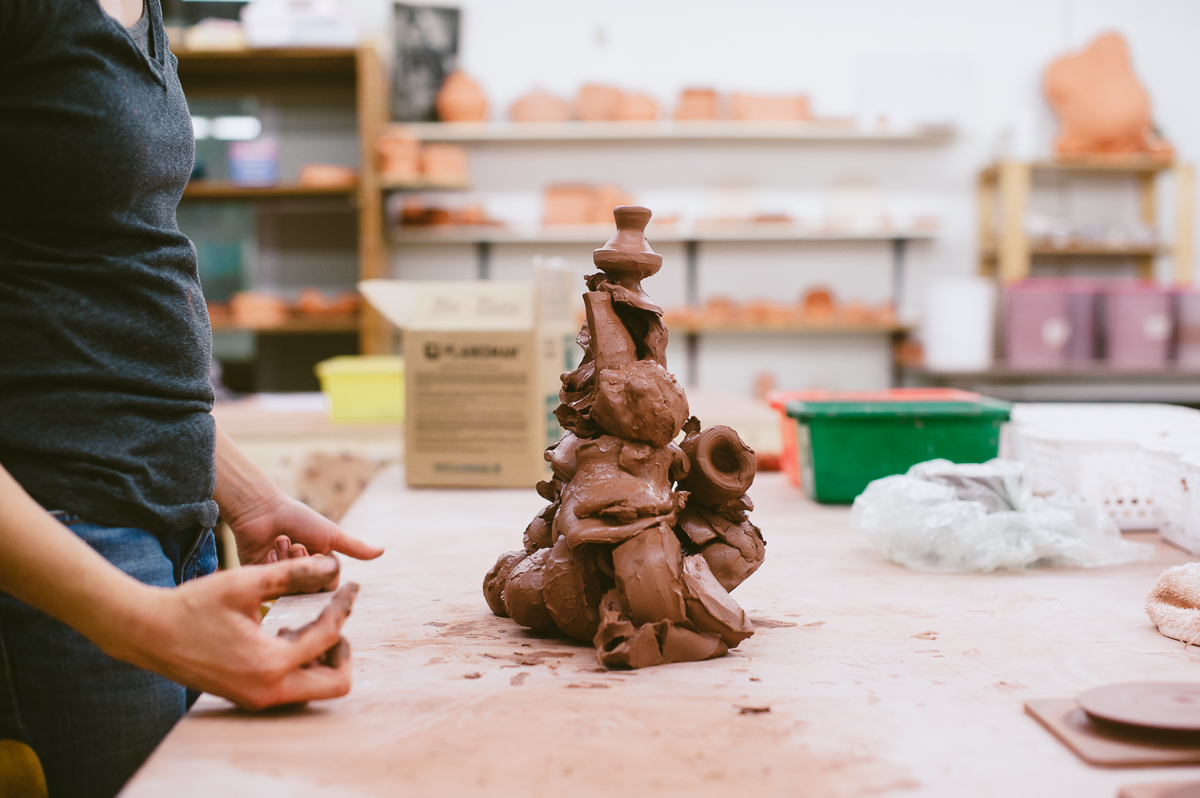 How happy was I that my friend Alena was also in the boot camp? All the participants were lovely but it was extra fun having someone there I knew. Also, she had no qualms about letting me take her picture!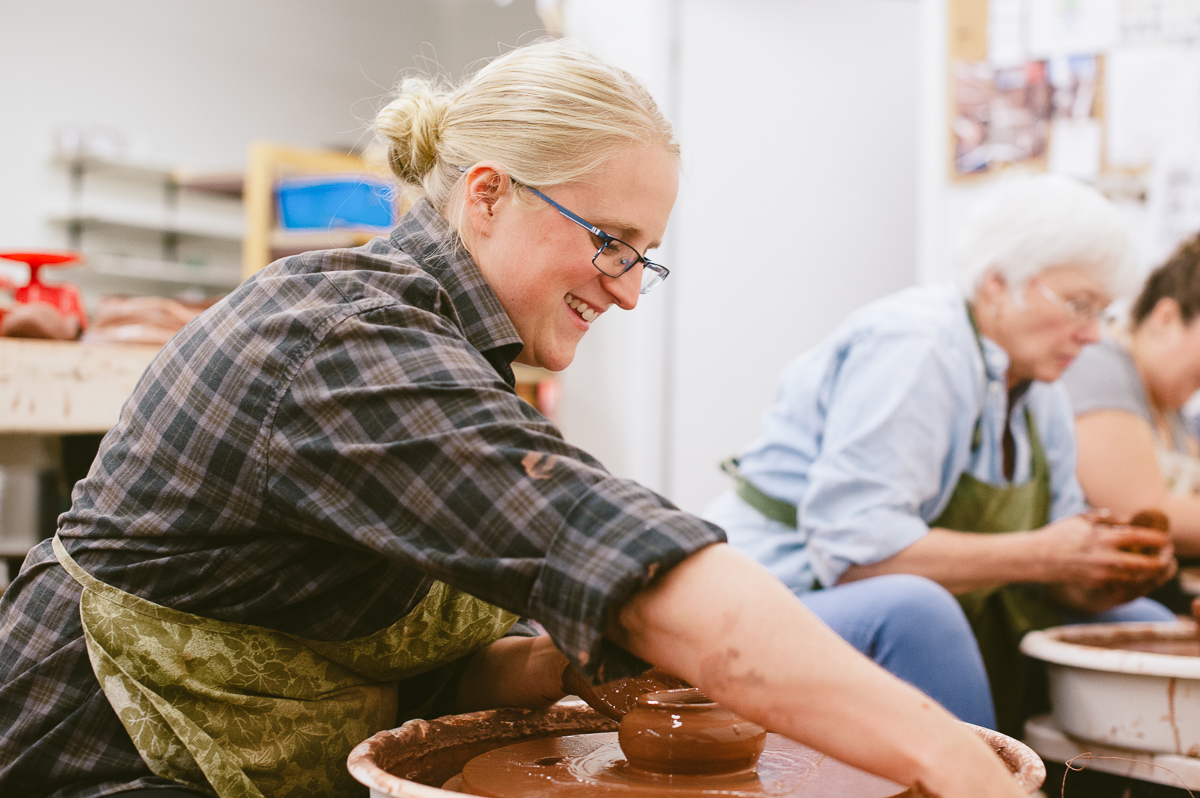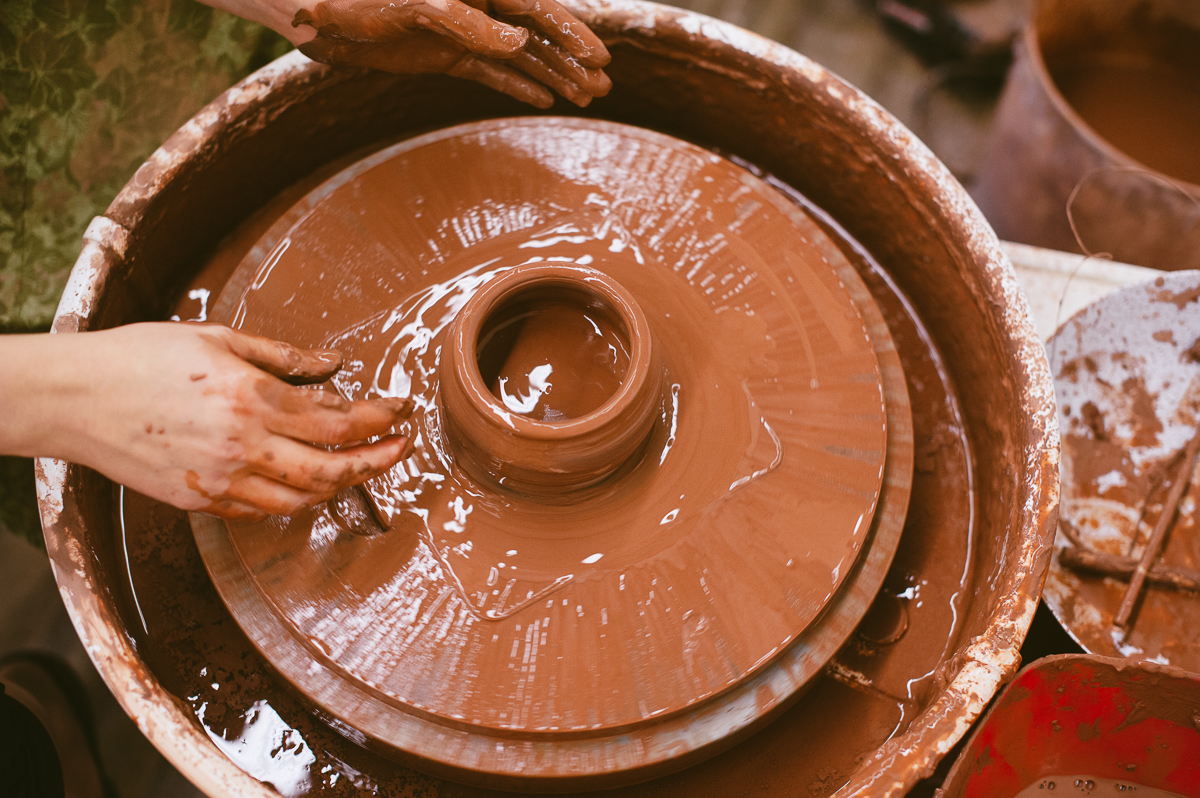 Once you deem your piece finished, it needs to be… footed (I think that's the term). Basically you take a little wooden knife and get rid of the clay that builds up around the base of your vessel. This was a bit of a fiddly process and scary for us newbs so we were very grateful that Carey did it for us!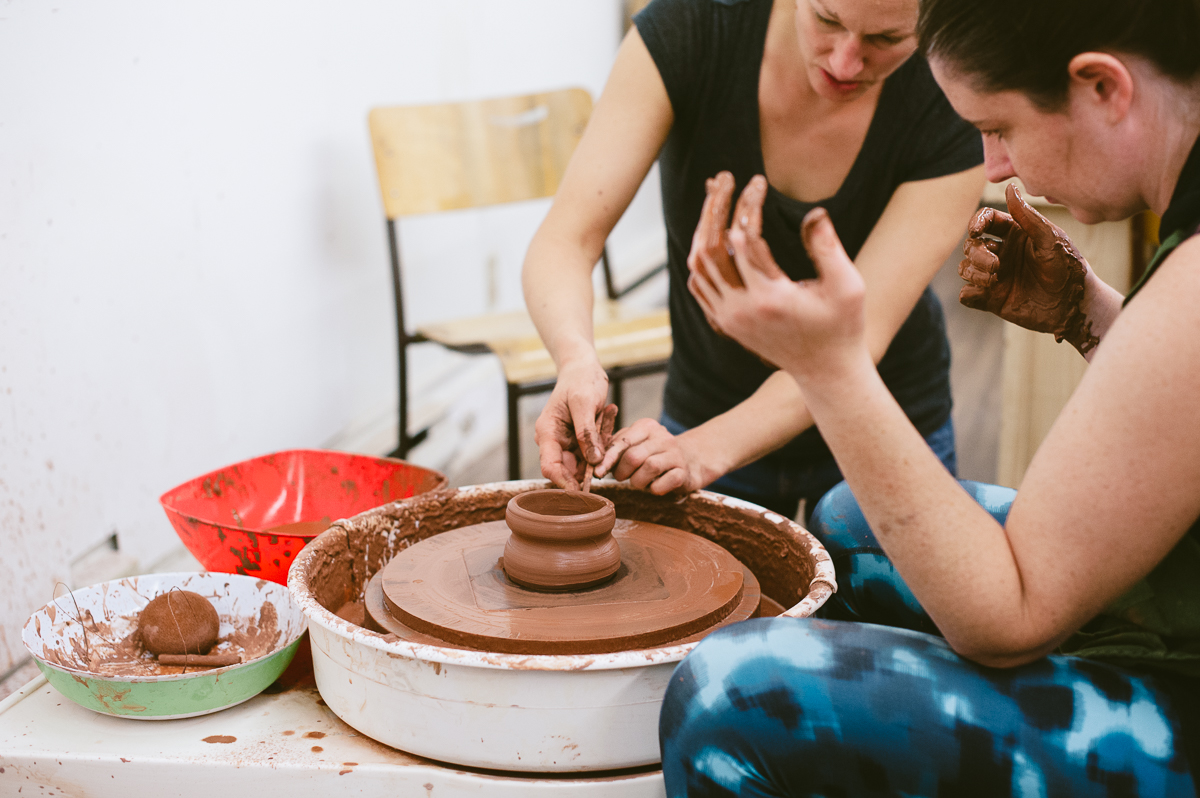 Our wonderful creations. From this point they need to dry, be glazed and fired in the kiln. We'll be able to pick them up in about a month and I'm excited to see the finished products!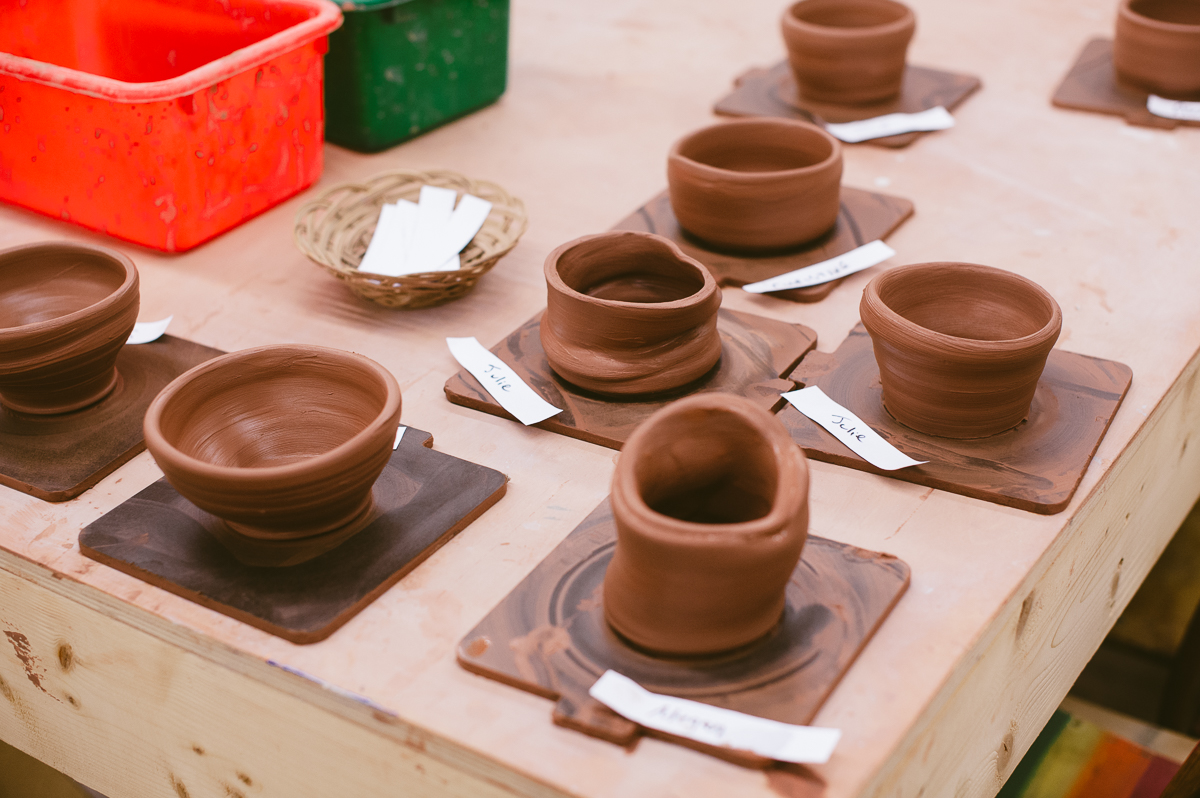 I made a small bowl with an uneven edge. It's not perfect but I have to say it's charming. It has some personality.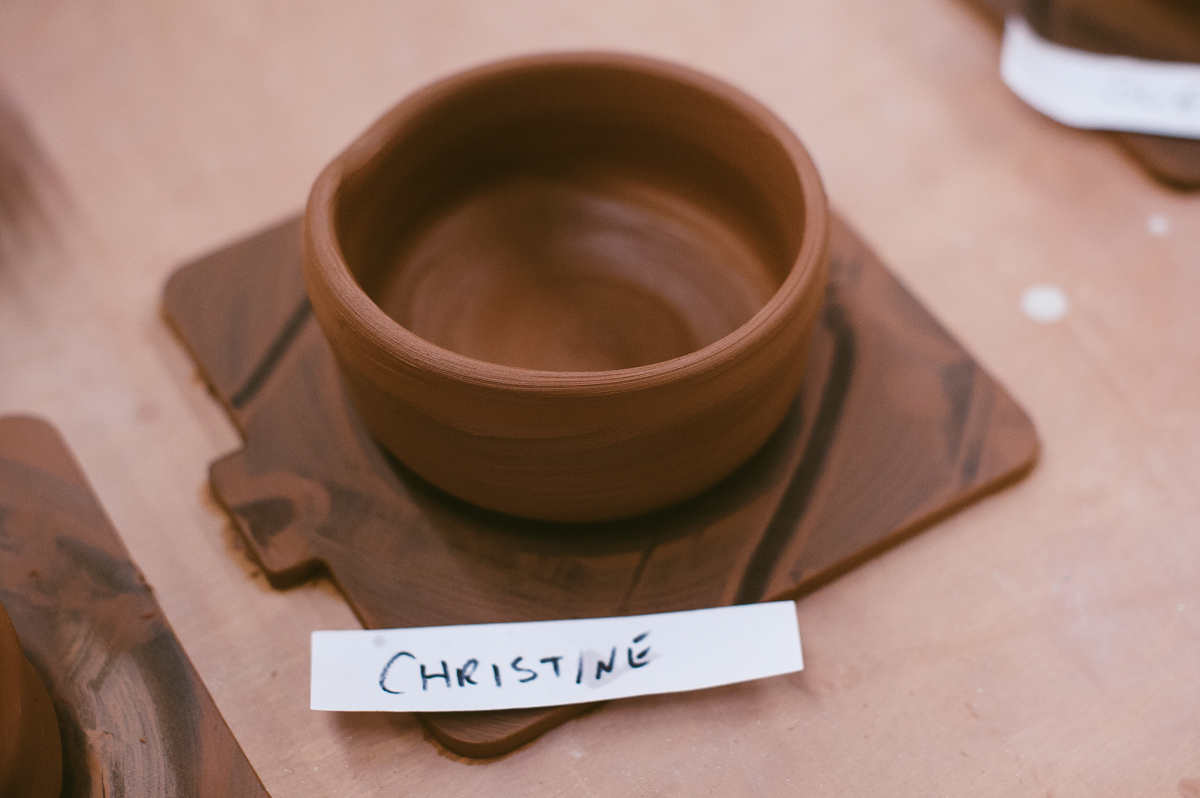 And this… this… thing. It has personality in spades. I'm not exactly sure what it is. It's wobbly and strange and will maybe someday hold a small plant. I don't mind it's odd shape because it makes me smile and will always remind me of my first pottery class. Maybe some day I'll be able to place it next to something amazing that I've made and I can say whoa, look how far I've come!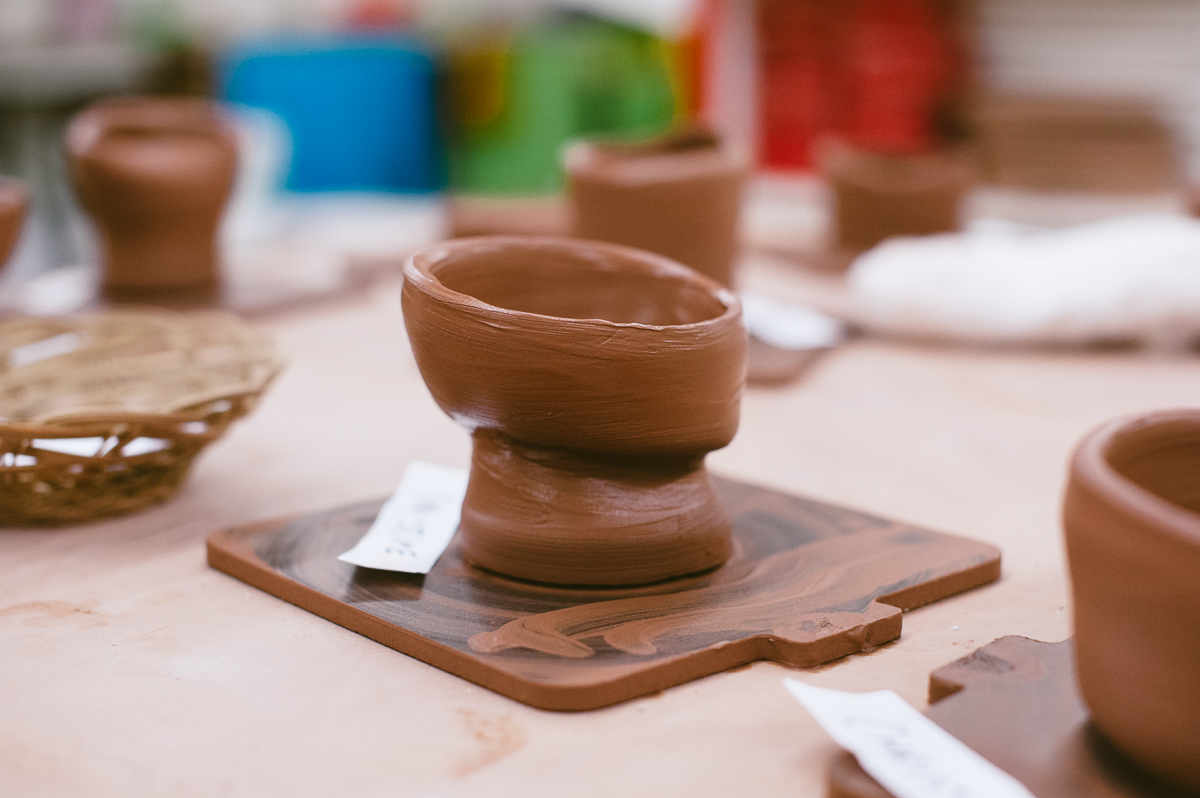 Perfect Diversity is a warm, welcoming, inspiring, creative space. Everywhere you look there are vignettes of inspiration. It's a happy place and I'm so very glad that I leapt at the opportunity to do a boot camp there. You can click here to see the classes they offer. I promise you won't be disappointed! If nothing else, the tea is super delicious and it's served in incredible handmade mugs that make it even tastier. Maybe some day I'll see you there either painting a pre-made piece or sitting beside me at a wheel. Til then! xo.