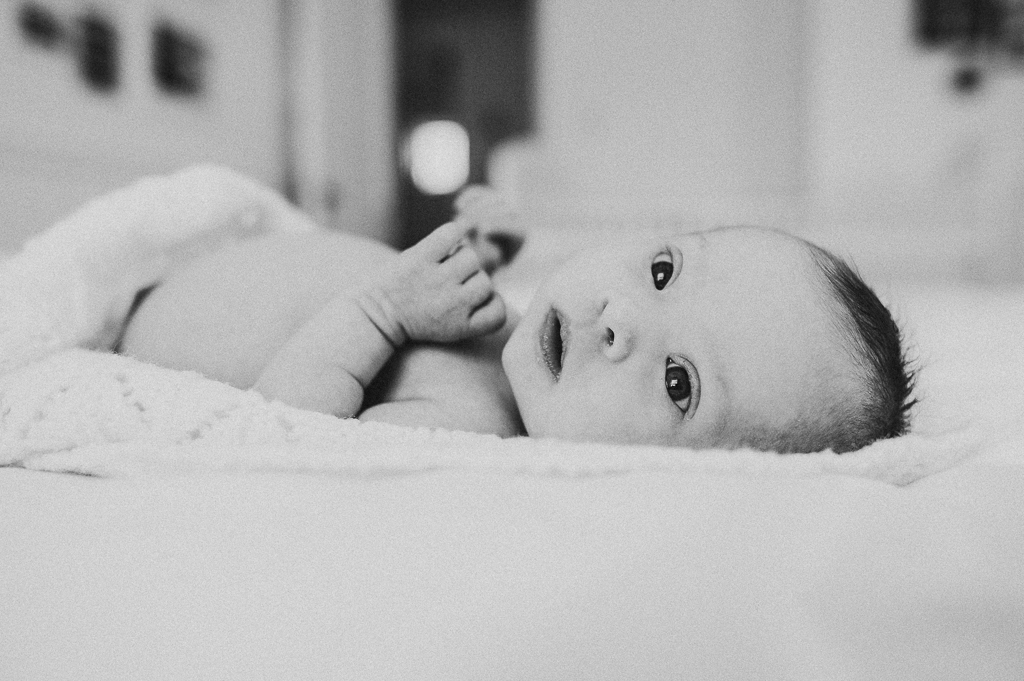 On the night you were born, the moon smiled with such wonder that the stars peeked in to see you and the night wind whispered, "Life will never be the same."
And the moment I laid eyes on Elizabeth Amelie I knew it to be true. The doctor placed her on my chest and I immediately knew something wasn't right. I commented that her nose was like her brothers and she was a sweet girl and I loved her. But I asked is she okay? Is she cute? Is she normal?
So enchanted with you were the wind and the rain that they whispered the sound of your wonderful name.
The nurses quietly reassured us. But after our persistent questioning one nurse started checking off the markers. The shape of her eyes, the crease in her palms, the extra fold of skin on her neck. I'm not convinced or unconvinced I heard her say. Her voice sounded very far away. We'll have the pediatrician come around as soon as she can.
It sailed through the farmland high on the breeze… over the ocean… and through the trees…
The pediatrician arrived a few hours later. She also checked off the physical markers. But nothing's for sure til the blood work comes back she said. I asked, do we tell our parents that our baby has Down Syndrome? Yes.
Until everyone heard it and everyone knew of the one and only ever you. 
I stared down at the baby in my arms in total shock and disbelief. This doesn't happen to me. This happens to other people. I couldn't see my baby, all I could see was Trisomy 21. This couldn't be happening. Our 20 week ultrasound came back healthy. This is our little girl. Simon's little sister. She's not supposed to have Down Syndrome.
Not once had there been such eyes, such a nose, such silly, wiggly, wonderful toes.
I cried. I immediately jumped ahead 20 years and cried for the love she may never find. The husband she may never marry. The children she may never have. I cried for my sudden fear of dying and leaving her all alone in the world. I cried and cried, the nurses and doctors' reassurances that she's a perfectly healthy baby falling on deaf ears. I cried because I was expecting a perfectly normal baby. My doctor said she IS normal and she's perfect. We have to work harder at redefining what normal and perfect are, he said.
When the polar bears heard, they danced until dawn.
Text messages from family and friends poured in. Embrace the beauty in the unexpected they said. But I couldn't. I grieved. I grieved not for the baby I held but for the baby I thought I knew. The one I had dreamed of when I was pregnant and imagining our lives together. The baby with the predictable trajectory. The little girl with the familiar path I thought she might travel. The joy and victories I could imagine with ease that were suddenly pulled out from underneath me. The space where a clear, vibrant picture of my daughter had grown in my heart was wiped clean, leaving behind an empty, scary void of unknowns.
From far away places, the geese flew home.
In the wee hours of the morning, tears dripped off my chin onto her small, round head. I was floundering, sinking under the weight of our news.
The moon stayed up until morning next day.
But then I kissed her head. I breathed her in. I smelled her sweet milky breath. I watched her blink blink blinking at her new world. I blink blink blinked back at her.
And none of the ladybugs flew away.
Our sweet, sweet baby Izzy. I can't and don't want to explain every emotion that came and went during that first 24 hours but suddenly, after wrestling through the night with scary unknowns, the tears were suddenly tears of joy, welling up at the miracle and wonder of this little life that lay sleeping in my arms.
So whenever you doubt just how special you are and you wonder who loves you, how much and how far, listen for the geese honking high in the sky. (They're singing a song to remember you by.)
Dave bought her a Buddha of Compassion. Not because he thinks she needs to learn compassion but because he's convinced that she will be our teacher. That from her we will learn compassion and empathy and to be better people.
Or notice the bears asleep at the zoo. (It's because they've been dancing all night for you!)
Izzy's extra chromosome doesn't have to define her or us as a family. Where at first I only saw her symptoms, the expression of that extra piece of genetic code, now I have to look for them. I wonder how I ever saw them in the first place. She suddenly transformed from my baby with Down Syndrome into my baby. Our Izzy.
Or drift off to sleep to the sound of the wind. (Listen closely… it's whispering your name again!)
As Dave explained it, as you're crossing the road of life you know there are some trucks out there that can run you over. But then you get hit by one and are surprised how it's not that bad. You get up and dust yourself off, pat yourself down and wow, you're still in one piece. In fact, you're not just okay, you're not even a fraction as bad you had imagined you'd be.
If the moon stays up until morning one day, or a ladybug lands and decides to stay, or a little bird sits at your window awhile, it's because they're all hoping to see you smile… 
I'm writing this blog post not because we're sad and looking for sympathy. It isn't sad. Izzy's Trisomy 21 is neither good or bad, it just is. Like any other child, we don't want to pigeon hole her or allow stereotypes to colour who she is and who she may become. We want to have open conversations and have people ask us questions. We're not ashamed or sad and it's not a secret – it's only a teeny tiny part of who she is as a whole. By bringing it out in the open we're hoping to avoid the elephant in the room. The unsure smiles as people say isn't she cute with unasked questions hanging awkwardly in the air.
For never before in story or rhyme (not even once upon a time) has the world ever known a you, my friend, and it never will, not ever again…
At the end of the day all kids come with their own set of challenges and Izzy's may be unique in some ways but we have no doubt that the good will far outweigh the tough. No matter what she might look like on the outside or the challenges we may face, we'll be enjoying her with the same openness and curiosity that has little to do with her disability and everything to do with her complexity and wonder as a human being. As a dear friend said to me after we told her about Izzy's Down Syndrome, "Isn't it funny how finding out something like that changes everything and nothing at all." It's a sentiment I return to over and over because it captures my feelings exactly. Izzy's extra chromosome has changed nothing – she will always be our beautiful baby girl, Simon's little sister and a ray of sunshine in our lives. But it's also changed everything – most significantly by growing our hearts ten times bigger already.
Heaven blew every trumpet and played every horn on the wonderful, marvelous night you were born.
On the Night You Were Born by Nancy Tillman